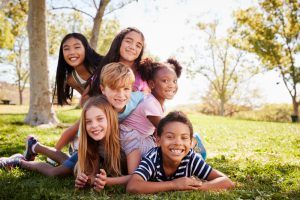 For some children, wearing traditional braces can often be a difficult task for various reasons. Like adults, they may simply not like the way traditional braces look in their smile, and they may just feel self conscious over the fact they have to wear visible braces at all. At Shirck Orthodontics, we offer clear or ceramic braces as a nearly invisible solution for straightening teeth without feeling the need to hide away their smile.
Our ceramic braces are a strong option for both children and teens who are needing to straighten their teeth. Instead of the stark contrast metal braces have against teeth, our ceramic braces are tooth-colored with a tooth-colored wire so they are inconspicuous and nearly invisible to wear.
Just like regular braces, our clear braces work to fix issues with the bite as well as realign the teeth so that your child can feel confident in their smile again. Once they have been placed, you will be asked to come back a few times to meet with Dr. Jeff, Dr. Soo or Dr. Betina for routine adjustments to ensure that this orthodontic treatment is working correctly for your child. Not to worry, however, this is the perfect chance for you to see your child's teeth straightening progression and to ask us any questions you have about your child's orthodontic treatment.
The main reason why clear or ceramic braces are so popular is because they let your child's confidence shine through in their smile. This way, we are able to turn their smile with braces from basic to awesome while also getting the orthodontic treatment they need so their smile continues to grow and develop in a healthy and unselfconscious way.
Our ceramic braces are designed with brackets made from a clear or white colored medium. While they are typically derived from ceramic, they may also be fabricated from a special type of porcelain. Our orthodontists will choose a color that will seamlessly blend in with your child's teeth making them nearly invisible. This helps them not feel self conscious during their time in braces. Even though there will still be a thin archwire in place it can be made from a virtually invisible clear wire. With clear or ceramic braces, your child will be less stressed and more confident while engaging in social activities with their peers.
To learn whether clear or ceramic braces are a good choice for your child's smile you will want to reach out to our orthodontic team to set up a consultation with one of our caring orthodontists where they will be able to answer whatever questions you may have and find what you need to do next when it comes to getting your child ready for braces. Straightening a smile has never been this easy and effective! If you are interested in getting your child's smile in braces, we invite you to contact our office today, and we will be more than happy to help them get started!
Call Today!
Call our Shirck Orthodontic team to schedule an appointment for your child. We will be happy to assess their orthodontic situation and recommend a treatment plan designed around their unique developing needs. We have been serving patients from Westerville, Sunbury, New Albany, Alexandria, Granville, Johnstown, Newark, Blacklick, Reynoldsburg, and beyond for many years now and can't wait to serve yours!