Did you think Invisalign® clear aligners were only worn by teens? Think again. These aligners are a popular choice for many adults looking for a metal-free option to straighten their smile. Not only do they give you a discreet appearance, but they also fit more comfortably and require fewer trips to the orthodontist than braces do, saving you time in your busy schedule.
Invisalign Clear Aligners
Invisalign clear aligners are removable aligners made of plastic. With Invisalign clear aligners, you will be able to fix problems with your bite and realign your teeth to their proper positions without feeling the need to hide away your smile.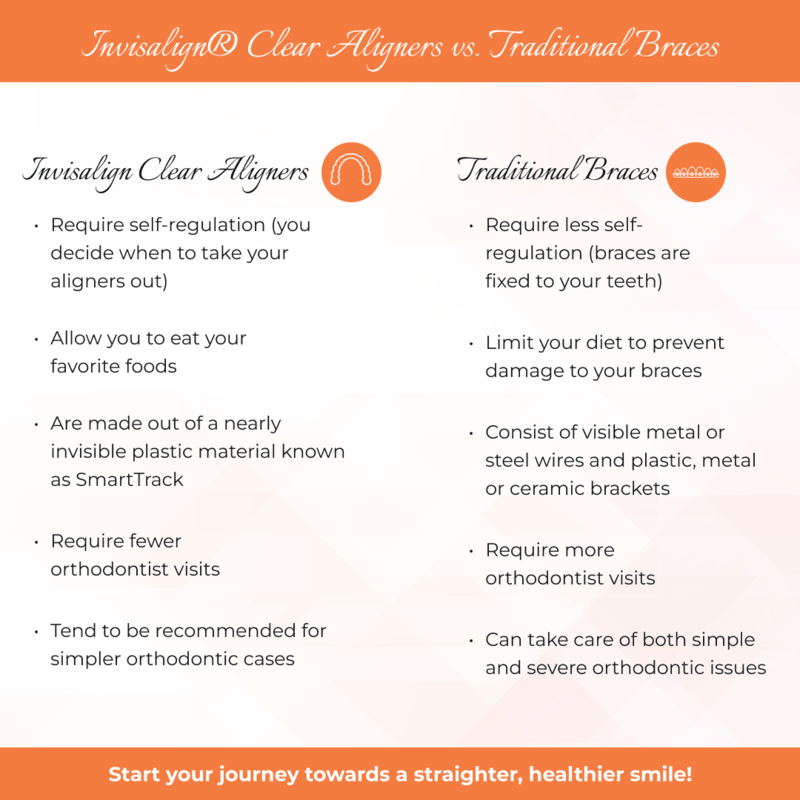 Benefits of Invisalign Clear Aligners
Invisalign clear aligners come with many benefits, including the following:
Ability to eat your favorite
comfort foods
No visible wires or brackets
Comfortable, custom-made aligners
What the Invisalign Clear Aligners Treatment Looks Like
Once you come in for a visit with our team at Shirck Orthodontics, Dr. Jeff, Dr. Soo or Dr. Betina will take iTero® digital impressions of your teeth to create your aligners.
You will receive a new set of aligners about every two to three weeks. Each set works to make small adjustments to your alignment, changing your smile over time. Your aligners are removable, so you can take them out to eat and to brush and floss your teeth.
The length of time for wearing your aligners will be based on the severity of your case and how well you are wearing them at home.
Wondering what happens after you are done with Invisalign treatment? You will then wear a retainer to keep your smile in place and looking beautiful.
Invisalign Clear Aligners FAQ
What Makes Me a Candidate for Invisalign Clear Aligners?
Invisalign clear aligners correct problems such as gaps between teeth, crowded or crooked teeth, and problems with your bite, including crossbites, overbites, underbites and open bite. Invisalign clear aligners are open to everyone, including teenagers, adults and even senior citizens. We also offer Invisalign Teen® clear aligners. Used braces in the past? You are still eligible for Invisalign clear aligners.
What Is the Cost for Invisalign Clear Aligners?
The cost of Invisalign clear aligners depends on your specific case and how many sets you need. Invisalign may be covered by your insurance, and we offer multiple financial options to make your treatment more affordable.
How Many Hours Per Day Do I Need To Wear My Aligners?
Making sure your aligners stay in your mouth is an important part of straightening your smile! Invisalign clear aligners should be worn at least 20 to 22 hours per day. Basically, you should wear your aligners any time you are not eating, drinking something besides water, brushing or flossing, or playing a sport that requires a mouthguard. You may also need to remove your aligners to play certain instruments.
If you have any trouble with these aligners, we are happy to help. To schedule a consultation to meet with our orthodontists and learn more about Invisalign clear aligners in Pataskala, New Albany, Westerville, Newark or Powell, Ohio, please give us a call.