Sometimes in life, we are not always happy with the look of our smile. If this is the case for you, we have great news! Here at Shirck Orthodontics, we offer multiple different types of braces for you and your family. During a consultation with Dr. Jeff, Dr. Soo or Dr. Betina, they will work with you to see which type of braces or orthodontic treatment will best suit you or your family member.
Now, we know many people can stress about the idea of getting braces. But there's no need to. With our team at Shirck Orthodontics, we make this an easy and educational process and take care of you every step of the way. Not only are braces known for being an effective choice to improve your smile, but the results can also leave you feeling more confident than before. This orthodontic treatment works to correct small gaps, overbites, irregularly shaped teeth and your oral health to help you avoid future problems down the road.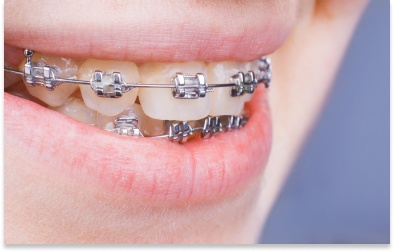 Traditional Braces
Braces are the gold standard for orthodontic care and for good reason! No other treatment combines reliability and affordability into one convenient package quite like braces. With this treatment, you can rely on our orthodontists and team to slowly and surely move your teeth into their correct positions.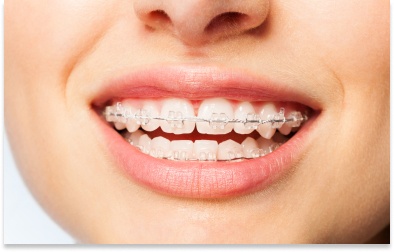 Clear or Ceramic Braces
What if you could have the power and accuracy of braces without the "mouthful of metal" look? Well, you can! With clear braces, made with ceramic brackets, you can straighten your smile in style without having to worry about the look of traditional braces.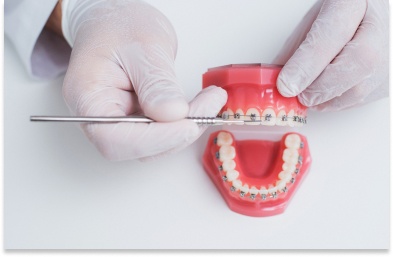 Same-Day Braces
We know you have a lot on your plate, and that's why we are proud to offer same-day braces! Come in for just one appointment and leave with your brand-new braces. We will be sure to help you know how best to care for your appliance and enjoy your time straightening your smile!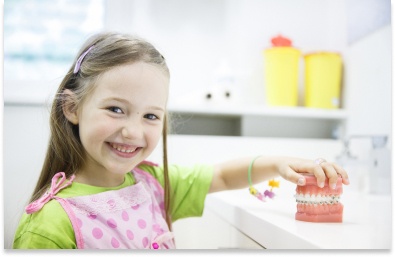 Pediatric Braces
Children should have an orthodontic screening around age 7 to catch any possible orthodontic problems early. If braces are necessary for your child, our orthodontists will discuss the best plan of action for them to have a healthy smile for life.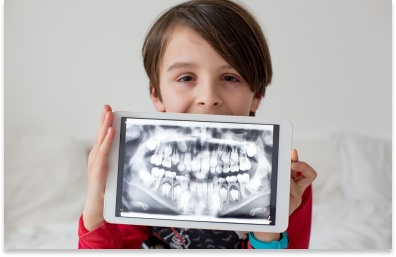 Two-Phase Orthodontic Treatment
One of the best ways to help your child's smile stay healthy is two-phase orthodontic treatment. This involves making sure your child's jaws are positioned correctly for their teeth to grow in and then using braces or other orthodontic care if necessary. This is a great way to save time and money over the long haul!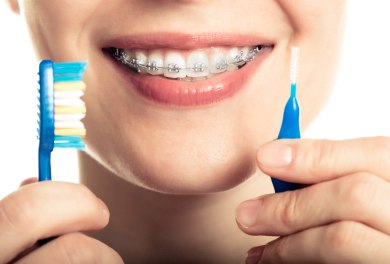 Caring for Your Braces
When you first receive your braces, you will probably experience some discomfort and even pain. This is normal; moving your teeth into their correct positions is a process that takes quite a bit of effort. But as you continue your treatment, that discomfort should ease, and you should be able to once again get back to life as normal.
Past the initial discomfort, life with braces has its own specific rules and guidelines to follow if you want to ensure a healthy, straight smile in as short a time as possible. You will need to be sure to brush and floss a little differently and maybe more often than you're used to. Our orthodontists will be sure to let you know how best to care for your braces and other tips and tricks, including foods to eat or avoid! Before you know it, you will be in for your final appointment and can walk out of our office with a beautiful new smile.
Don't believe us? Come and see for yourself what braces in Pataskala, New Albany, Westerville, Newark and Powell, Ohio, can do for you with a consultation here at Shirck Orthodontics. Call us today to get started. Our orthodontists and team look forward to seeing you!