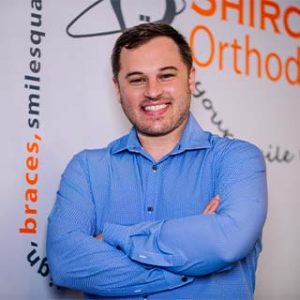 As an orthodontist, my greatest reward is in knowing that my work has a profoundly positive impact on the lives of the people whom I treat. With this goal in mind, I understand very well the responsibility I have to provide my patients with only the most rewarding, beneficial and individualized care possible. Each day, I strive to uphold and prove my commitment to my patients' health and happiness, and I am excited for the many years to come.
Dr. Shirck's Accomplishments
Best Westerville Orthodontist
Committed to Advanced Training
Columbus' Top Orthodontists
Elite Invisalign Provider, 2017
Education and Continuing Education
For my entire academic career, I attended Ohio State University. There, I received an incredible education that set a solid foundation for me to become a highly skilled orthodontist. At the university, I completed my undergraduate degree in biology (summa cum laude), my Master of Science degree in craniofacial biology, my Doctor of Dental Surgery (summa cum laude) and my specialty training in orthodontics.
During my time in dental school and my residency, I worked very closely with many children at the Nationwide Children's Hospital in the Craniofacial Abnormalities Clinic. These experiences provided valuable practice in treating patients with special needs and seeing to their utmost health and happiness.
Of course, my education does not stop with my formal academic training. I understand how important it is for my patients that I stay fully abreast of all the latest developments and trends within my field. For this reason, I dedicate much of my free time to continuing education courses and seminars. My patients benefit from this by receiving more efficient and effective treatments that give them better results.
Awards
I am proud to have been chosen as one of Columbus' Top Orthodontists from 2011 to 2016. This distinguished honor, voted on by general dentists in Columbus, is based on quality of service, patient comfort and excellent working relationships with referring dentists. In addition to this prestigious award, I was also named Best Westerville Orthodontist in 2015 and was additionally the recipient of the 2012 Commitment to Excellence award, given to me by the Downs Syndrome Association of Central Ohio for my work with patients with special needs.
Professional Affiliations
By holding active memberships in a number of professional organizations, I am afforded a crucial opportunity to converse and share ideas with my professional colleagues. This is one of the most beneficial channels for continuing my education, and my memberships are integral to my practice.
The W.D. Miller Dental Society
Outside of the Office
In my time away from the office, I enjoy spending time with my wife, Zhenia, and our sons, Jake, Jordan and Julian. Having spent my entire life in central Ohio, I am a huge Buckeye football and basketball fan. When I get the chance, I love playing golf, traveling, and visiting as many different baseball stadiums as I can.
Fun facts:
I have been to most pizza places in Columbus.
I used to collect pigs when I was a kid. I had pig clocks, pig stuffed animals and anything else with a pig on it.
My cousin plays major league baseball for the Washington Nationals.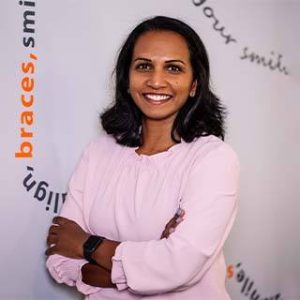 Dr. Soorya Srinivasan, known to her friends and patients as Dr. Soo, is super thrilled to work alongside Dr. Jeff and our amazing smile team.
Dr. Soo was born and raised in the south Indian state of Kerala — a place named "God's own Country" for the lush greenery, beaches, waterfalls and rich history! She always tells people to think of Florida as a comparison. She did all her schooling, including dental school, in India. When she moved to Massachusetts with her husband, she did a re-run of her dental education at Boston University School of Dental Medicine, earning her DMD. She later moved to Ohio to attend a year-long orthodontic internship at The Ohio State University and stayed on to do her orthodontic residency there. The camaraderie and buckeye love she felt at OSU made Ohio feel like home, and she and her family have put down roots in Dublin, Ohio. Her small family, consisting of her husband, a physician at OSU, and sweet little boy, have found amazing friends here who have become their extended family! She is ready to give the same love and care back to the community now!
In her spare time, Dr. Soo loves walking and biking on the many trails around Dublin. She also enjoys visiting the Center of Science and Industry (COSI), the zoo and the many local parks with her son, trying out different cuisines, watching movies and traveling! She loves watching The Voice and American Idol and binge-watching Big Bang Theory!
Fun facts:
Autumn is my favorite season. Our family of three love to drive to the mountains to see the bright colored leaves.
I spent my entire childhood and a good chunk of adulthood in India where I was born.
I can binge-watch Friends and Bing Bang Theory any number of times, even though I've seen them more times than I can count. However, I will never watch anything remotely scary!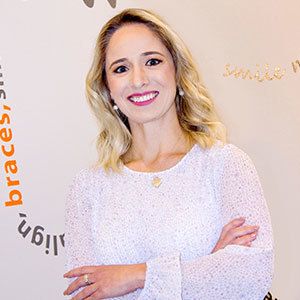 Dr. Betina Grehs-Porto was born and raised in Rio Grande do Sul, Brazil. She graduated in 2002, where she obtained her DDS at the Lutheran University of Brazil (ULBRA) in São Paulo. In 2009, Dr. Betina Grehs-Porto completed her Masters of Dental Science in orthodontics. Being an avid learner, she continued on to complete her PhD in orthodontics at São Paulo State University (UNESP) in 2015.
Dr. Betina has always enjoyed research. In 2016, she won first place in her PhD thesis research on orthodontics that she presented at the Brazilian Congress in São Paulo, Brazil! Upon completing years of schooling, she worked in a private practice in orthodontics between 2009 and 2017. Dr. Betina moved to the United States in 2017. She went back to orthodontic residency at Case Western Reserve University to be able to practice in the United States as an orthodontist. Shirck Orthodontics is very excited to welcome her to the practice and to the New Albany community, where she now resides. In her time away from being an orthodontist, Dr. Betina is very busy with her two boys: Arthur, who is an avid tennis player, and Theo, who plays on FC soccer team. She also loves to spend time with her beautiful dogs, Molly (Miniature Schnauzer), Lolla and Roger (Dalmatians). Although she admits there is not much time left for anything else, she loves to cook, travel and play piano!
Hours
Mon-Fri 8:00 A.M. - 5:00 P.M.
Ask Shirck Orthodontics
Invisalign and the Invisalign logo, among others, are trademarks of Align Technology, Inc., and are registered in the U.S. and other countries. - Privacy Policy