Although braces can be a popular choice for many teens and adults seeking orthodontic treatment, they are not always appealing to everyone, and that is okay. Here at Shirck Orthodontics, Dr. Jeff, Dr. Soo and Dr. Betina offer a variety of clear aligners for you to choose from, giving you a discreet option to straighten your teeth.

Clear aligners are easy to put in and take out whenever you need to eat or perform your daily oral hygiene routine. You know what that means, right? Not only do you get to wear a nearly invisible orthodontic solution, but you can also remove them to eat the treats you love without worrying about breaking a bracket. Clear aligners don't involve multiple trips back to the orthodontist for adjustments, unlike braces. All you need to do is make sure you wear them for the recommended treatment time and clean them regularly. Plus, with their comfortable and clear appearance, they also make you appear more youthful, since you don't have to deal with a mouthful of wires.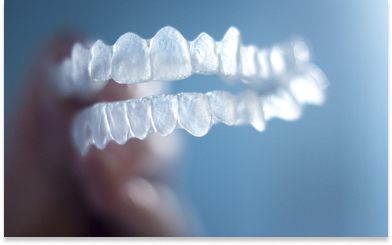 In-House Clear Aligners
Wondering what the difference is between our in-house aligners and Invisalign® clear aligners? With in-house clear aligners, we can use the scans we take of your smile to build your clear aligners here with our 3D printer instead of sending them to a company to create.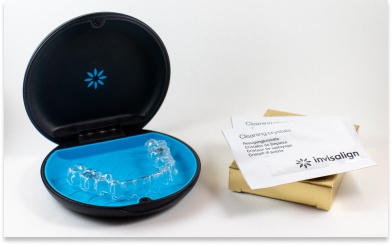 Invisalign Clear Aligners
For the Invisalign clear aligners option, we will scan your teeth and send the iTero® digital impressions to Invisalign, who will create your aligners. We offer both the standard Invisalign clear aligners and Invisalign Teen®.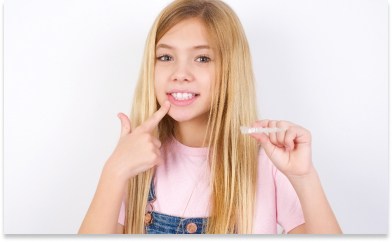 Invisalign Teen
Invisalign has an option specifically for teenagers! With the Invisalign Teen clear aligners, your teenager can straighten their smile with confidence and can easily remove their aligners for certain sports or playing instruments as needed.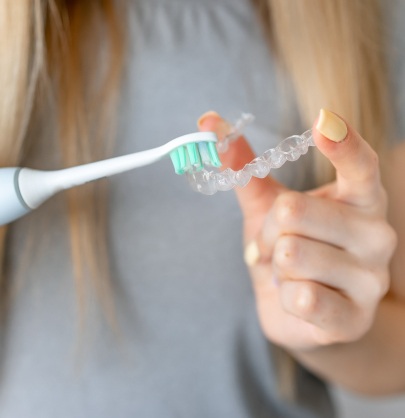 Taking Care of Clear Aligners
With clear aligners, it is much easier to see when your aligners are dirty, making it important to clean them. If you have Invisalign clear aligners, you can use the Invisalign cleaning system. Otherwise, you can use a toothbrush and lukewarm water. We emphasize that you should not use hot water to clean your aligners, since hot water will warp them. Be careful not to eat food or drink anything besides water when wearing your aligners, and do not smoke or chew gum when wearing them either.
Clear Aligners FAQ
What Are Clear Aligners?
Clear aligners are wireless plastic aligners that work to straighten your teeth over time. Each set you receive makes small adjustments to your alignment. Clear aligners are nearly invisible and removable for your convenience..
Do I Qualify for Clear Aligners?
Clear aligners are available for everyone, including seniors, and can take care of many orthodontic concerns, including crooked teeth and bite problems. Clear aligners are a great option for teenagers and adults who want a more subtle method for straightening their smiles. During your consultation, our orthodontists will perform an examination to see if clear aligners are the best treatment option for you.
What Is the Process for Clear Aligners Treatment?
First, you will need to come in for a consultation. During this visit, we will examine your smile and plan your treatment, and we will take a digital impression of your smile. Don't worry, we don't use gooey impressions here! You will receive custom aligners about every one to two weeks, and you will need to wear the aligners for about 20 to 22 hours per day. You will also come in for additional visits during your treatment so we can check on your progress.
Can I Remove My Clear Aligners To Play Sports or Instruments?
Yes, you can! Just remember to put them back in afterwards and manage your time so that you still wear them for at least 20 hours a day.
How Much Do Clear Aligners Cost?
Clear aligner costs depend on your unique treatment plan, but they are usually similar to what braces cost. We work with a variety of insurance providers and offer multiple payment options, including Shirck's Smile Club, to make clear aligners even more affordable.
I've Had Braces or Other Dental Work in the Past. Can I Still Use Clear Aligners?
You can use clear aligners if you have used braces in the past. While it is possible to use clear aligners with veneers or dental crowns, we recommend consulting with our orthodontists if you've had extensive dental work done.
Do I Need To Do Anything After I Complete My Clear Aligners Treatment?
We don't want your beautiful new smile to regress after your hard work! To protect your straightened smile, you will most likely wear a retainer to keep your smile in alignment.
Give us a call today to schedule a consultation with our orthodontists and learn more about clear aligners in Pataskala, New Albany, Westerville, Newark and Powell, Ohio. We look forward to building your dream smile.