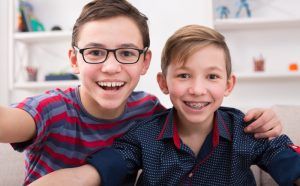 The American Association of Orthodontists recommends that children between the ages of seven and nine should be evaluated by an orthodontist. There are times when early developmental treatment is indicated to correct situations before they become major problems. Examples include kids who have a problem sucking their thumb or kids who have a narrow jaw and need a palatal expander to avoid crowing when permanent teeth eventually show up.
When you come in for a complimentary consultation at Shirck Orthodontics, Dr. Shirck will count the number of baby teeth your child has, complete an oral exam and determine the optimal time that your child will be ready for braces.
When To Bring Your Child In for an Orthodontic Evaluation
Our experienced orthodontic team loves preventing and treating problems in your child when it comes to orthodontics. We fix crooked teeth arising from your family tree or oral habits like prolonged thumb sucking, for example. Most full orthodontic treatment begins between ages nine and 14, and lasts from one to three years, with two years being the average.
To determine the best treatment time for your child, you should have their smile evaluated early. Our orthodontists are trained to assess abnormalities in the teeth and jaw, and identifying developing teeth and mouth issues is our specialty.
Developing Oral Problems We Look for in Your Child
As your child grows, they can encounter various problems like overcrowding, jaw growth issues, protruding teeth and even teeth with large gaps between them. Most orthodontic problems arise because of irregularities, which can be the result of the following:
Poor nutrition
Dental hygiene problems
Medical issues (birth defects, finger sucking, mouth breathing, losing baby teeth)
How Our Orthodontists Can Help
For some problems, we might simply monitor them for developing issues to address at a later scheduled date, according to your child's diagnosis. Treating some problems early on can shorten the treatment time and keep bigger issues from arising. Thanks to early detection, we can spot and prevent poor habits so that your child's smile can grow properly to boost their developing self-confidence. Our orthodontists can guide your child's jawbone development and lower the likelihood of injury down the road, from protruding teeth, for example.
When to Get Your Child's Orthodontic Exam
You can bring your child in around age 7 so we can watch for developing conditions. The AAO advises that children should be seen no later than age seven for their first orthodontic check-up. Remember, primary teeth set the foundation for adult teeth to come in properly. Even teeth that look straight now can be affected by underlying bite problems that will show up as their permanent teeth arrive. We hope this helps, and invite you to give us a call at a location nearest you if you have any questions about your child's treatment at Shirck Orthodontics.