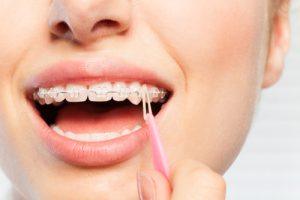 Most patients understand that braces are for straightening your teeth, but did you know that orthodontics can correct your misaligned bite as well? Problems with the bite (such as an overbite, underbite, open bite, and crossbite) can be just as problematic for your smile as crooked teeth. A misaligned bite can make it difficult for you to eat and speak correctly, but don't worry, your Shirck orthodontists, Dr. Jeff, Dr. Soo and Dr. Betina can help! For these kinds of issues, they may use tools called elastics or rubber bands. So, what are they? How do they work? And do you need them? Today, we're going to answer all of these questions and more!
What Are Elastics or Rubber Bands? How Do I Know If I Need Elastics or Rubber Bands?
This will primarily be determined by our skilled Shirck orthodontists, Dr. Jeff, Dr. Soo and Dr. Betina. During your exam, they will assess the alignment of your teeth and bite. If elastics are needed during your treatment, it will be discussed at the time of your initial complimentary consultation.  Once you reach the bite correction stage of your treatment, one of our helpful orthodontic assistants will show you how to put them on and take them off. They will also let you know how often they should be changed. Whenever you come in for your routine appointments, we'll monitor the progress of your bite correction. The time it takes to correct your bite may vary. It is important to wear your elastics as recommended to ensure your treatment stays on time. Your Schirck orthodontist will advise you on what to do every step of the way, making sure you have the perfect smile at the end of your treatment, no matter what.
Have Any Questions about Braces or Elastics?
Elastics or rubber bands are extremely effective tools that our Shirck orthodontists, Dr. Jeff, Dr. Soo and Dr. Betina can utilize when necessary to get the desired bite alignment.  Of course, elastics or rubber bands are not worn by all patients and will depend on the type of correction needed for perfect bite alignment. Achieving a healthy, perfect bite will ensure a healthier smile for the rest of your life. Having optimal bite alignment means that you will avoid potentially cracking or chipping your teeth from improper wear and pressure when you bite down.  It can also help avoid gum recession which leads to tooth sensitivity from root exposure. If you are asked to wear your elastics as part of your orthodontic treatment, you'll want to follow the recommended instructions as advised to get the best results with all the time and energy you invest in your treatment.
We Are the Orthodontist Near You
Shirck Orthodontics is excited to offer orthodontics for you and your family to achieve the aligned smile you desire with braces. We have locations inWe have convenient locations near you in Powell, Newark, Westerville, or New Albany and Pataskala, Ohio. There's no better time to start your braces journey and we welcome you to schedule your appointment today!