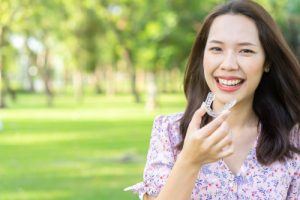 Invisalign ® clear braces are an orthodontic solution that utilizes an alignment tray system. Using a series of clear plastic aligners, Invisalign gradually shifts misaligned teeth into place using gentle pressure.
For many years now, Invisalign has been the go-to adult orthodontic option, and we're proud to be a premier provider for both Invisalign and Invisalign Teen. Shirck Orthodontics is dedicated to offering patients excellent treatment options, but even more importantly, our orthodontists, Dr. Jeff, Dr. Soo and Dr. Betina are dedicated to our patients. Building relationships based on trust and respect with patients, dentistry peers, and our communities, is our top priority. Invisalign treatment from Shirck Orthodontics is different because it comes with our superior care, state-of-the-art practice, and budget-friendly pricing.
Why Choose Invisalign or Invisalign Teen®
When it comes to choosing an orthodontic treatment option, most of the factors that determine the best choice are patient-specific. It's easy to share the pros and cons associated with various orthodontic treatment options, but our orthodontists, Dr. Jeff, Dr. Soo and Dr. Betina find that one of the best ways to help patients is to share the stories of those who have chosen Invisalign clear braces!
Professional Patsy – Patsy was lucky enough to have naturally straight teeth. In her teens, Patsy decided to keep her wisdom teeth since they were healthy and developed without crowding, impaction, or other common concerns. Patsy is now 40 years old, and a busy professional. Several years ago, Patsy had to have 3 of her 4 wisdom teeth removed. Since then, her smile has shifted slightly, and she has several teeth that are out of alignment. For the first time, Patsy is not proud of her smile, but she can't imagine leading board meetings or giving presentations with a mouth full of metal. Patsy scheduled a complimentary orthodontic consultation with Shirck Orthodontics and determined that Invisalign® clear aligners were the best option to correct her smile. Her teeth were only minimally misaligned so she would be able to complete treatment quickly, and because the alignment trays are clear, no one but Patsy would ever need to know she was straightening her teeth.
Busy Bryan – Bryan was a high school student who was the definition of "overachiever." He played the drums, played baseball, participated in numerous academic clubs, and volunteered regularly in his community. Between all of his activities, he found it difficult to squeeze in lunch, so the numerous visits required for traditional orthodontics would be a challenge. During his consultation at Shirck Orthodontics, we determined that Invisalign Teen® clear aligners were the best option for Bryan. With fewer, shorter visits to our office, Bryan was able to straighten his smile without giving up any of his activities.
Contact the Trusted Orthodontist for Newark – Shirck Orthodontics
If you're ready to take a closer look at Invisalign or our in-house clear aligners for a less expensive option offered by Shirck Orthodontics in New Albany,Westerville and Pataskala, you can count on Shirck Orthodontics. We're proud to serve our neighbors in Granville, Powell, Newark, Westerville, New Albany or Pataskala, Ohio to schedule your complimentary consultation. Our skilled orthodontists, Dr. Jeff, Dr. Soo and Dr. Betina are always here for you and your family's smiles!