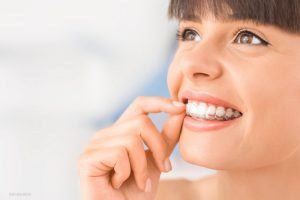 When people think of wearing braces, they most likely visualize the wires and brackets that are usually associated with traditional braces. Although traditional braces are quite beneficial to some people seeking orthodontic treatment, others may be wanting a more discreet and innovative method of straightening their crooked teeth. While it may seems as though there would be no way you can have the perfectly aligned smile you have always wanted while also looking like your normal, natural self, our fun loving orthodontists, Dr. Jeff, Dr. Soo and Dr. Betina are able to do just that by helping our patients successfully straighten their teem with Invisalign® and clear aligner therapy!
Why Choose The Invisalign System
Invisalign is a revolutionary piece of dental technology that allows the wearer to be prudent with their treatment. The Invisalign system works through a series of aligners that are custom made just for your smile! Each clear aligner is indicative of the next stage in your teeth straightening process, and you will receive anywhere from 18 to 30 trays by the time your treatment is completed. These clear, flexible plastic aligners (a high tech patented thermoplastic material called SmartTrack created just for Invisalign Treatment. These modern marvels sit nearly invisibly in your smile, so people will not even know that you are wearing braces!
One of the great advantages about Invisalign® is the fact that the aligners are removable. So if you have to take pictures or have a special occasion to attend, you can simply remove the aligner for the time being! Wearing clear aligners also means you will experience better oral health than you would wearing traditional braces. That is because whenever you need to eat, drink, brush, or floss your teeth, simply remove the aligner and put it back in when you are finished! You are then able to eat whatever you desire with Invisalign therapy, as you do not have to worry about food getting trapped in the wires and brackets as they typically normally do when wearing traditional braces.
Call To Schedule Your Orthodontic Consultation
Are you ready to consider Invisalign® for your orthodontic needs? If you feel as though Invisalign clear aligners can help perfect your smile issues and would like to set up a consultation with one of our orthodontic specialists, Dr. Jeff, Dr. Soo and Dr. Betina, we welcome you to reach out and contact our office so we can help get you started on your exciting orthodontic journey!
Give us a call at Shirck Orthodontics to schedule an appointment for yourself. We'll be happy to assess your situation and recommend an effective treatment plan designed around your needs. We have been serving patients with their orthodontic needs from Westerville, Sunbury, New Albany, Alexandria, Granville, Johnstown, Newark, Blacklick, Reynoldsburg, and beyond. We look forward to helping you straighten your smile seamlessly with the innovative Invisalign system so you can smile with confidence!