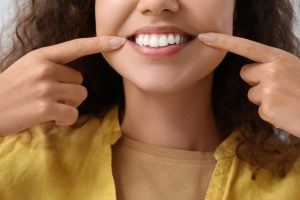 Do you often find yourself dreaming of a perfectly straight smile that will turn heads and light up a room? Are you content with the look of your smile? Thousands of adults nationwide wish they had straighter smiles. When teeth grow into place during developmental stages, they most often crowd together and misalign, making a naturally straight smile highly improbable. If you are an adult sporting a crooked smile, you can seek a solution for straightening your teeth that will not require traditional orthodontic treatment. Shirck Orthodontics offers an alternative treatment in the form of clear braces.
Wonderful Treatment from Incredible Professionals
Our skilled orthodontic team understands that for some adults, traditional braces are simply out of the question. The metal brackets and wires are viewed as juvenile, and most adults do not want to feel self-conscious about their appearance. Our dedicated orthodontists, Dr. Jeff, Dr. Soo and Dr. Betina, have years of experience under their belts. Not only that, but Dr. Shirck's handpicked team of experts wants to accommodate orthodontic treatments for every patient that walks into our office. Since not everyone wants to undergo traditional orthodontic care, we are delighted to provide clear braces for our patients seeking an alternative to traditional braces. Clear braces, as the name implies, are made of clear ceramic, which blends seamlessly into the natural appearance of your teeth to give you the smile of your dreams.
What are Clear Braces and How Do They Work?
Clear braces are for those who don't want to worry about self-image while undergoing orthodontic treatment. These innovative braces work like traditional braces (wires and brackets), but the appliance meshes with the natural appearance of your teeth. Over time, the wires will shift your teeth into the perfect position. Unlike regular braces, clear braces do not stain, although the wires can potentially stain, so it is important to make sure you maintain regular cleaning habits throughout the process. Adults undergoing this procedure can receive the celebrity-like smile of their dreams without worrying about aesthetics.
Receive Stellar Treatment from Our Amazing Team
Are you ready to straighten your teeth and achieve the stellar, pristine smile you crave without seeing the metal sheen of traditional braces when you look into the mirror? If so, our orthodontists, Dr. Jeff, Dr. Soo and Dr. Betina, invite you to contact our office today and ask about our clear braces. Our friendly team is always ready to serve you at one of our convenient locations: Granville, Powell, Newark, Westerville, New Albany or Pataskala, Ohio. We absolutely love helping our patients achieve the stellar smile they have always wanted, and look forward to assisting you with all of your orthodontic needs!