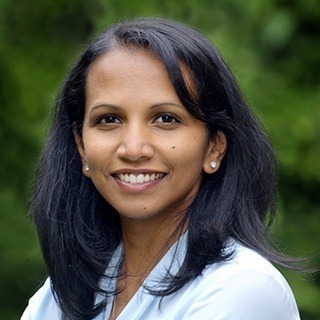 Before you commit to getting orthodontic treatment for yourself or your child at Shirck Orthodontics, you'd probably like to know a bit about the dentist who will be providing the care, right? That's why we recently sat down with our own Dr. Soorya Srinivasan ("Dr. Soo"). If you want to know about her training and where she went to school, you can read her bio here, but if you'd like to know more about her as a person, be sure to check out today's blog!
Ask Dr. Soo
What was it like growing up in India?
"I look back on my childhood very fondly! It was wonderful! I have an older sister, and we had so many kids in our neighborhood that we were always out playing till dark, climbing trees and having all kinds of fun!"
Please share one childhood memory that stands out to you.
"Summer vacations were always special to me! Growing up, we had one very special family friend who had two girls similar in age to me and my sister, and we spent the whole summer alternating between the houses. One summer, the four of us decided to build a house of our own! And we made one with small tree trunk pillars and palm tree leaves for the roof and walls. It was big enough that we could all hang out there together. We even did housewarming and got some kitchen containers from our parents!!! Fun fact- I still use those containers for knick-knacks at my house!!!"
What was it like moving to the United States?
"It was super hard in the beginning. I was newly married when we moved to the US. We did not have any family and were figuring out life together and in an all-new setting! But over time, we have made so many friends who have become family to us!"
When did you decide to go into orthodontics and why?
"I was drawn to dentistry during high school as I used to shadow at a family friend's dental clinic. My mom was an OB-GYN, and while she thoroughly enjoyed her work, I was not a big fan of how busy she was. Dentistry proved to be the middle ground I was seeking, where you are still providing noble service, but with a much more family friendly work life. It was when I started dental school in India that orthodontics really stood out to me. It was my favorite subject! And bonus, I don't have to ever give shots because I DID NOT LIKE giving them!!"
Why did you specialize in orthodontics?
"Orthodontics was my favorite subject in dental school in India, and when I had orthodontic treatment myself (I got it while in dental school), that sealed the deal! It's incredible and I LOVE it!!! I also love the relationship we develop with the patients and families as we see them more often than a general dentist or physician! I love hearing about what they are doing, trips they are taking, and all that is happening in their lives!"
Is there a specific instance during your education or residency that stood out to you?
"I truly believe that orthodontic treatment can make a great impact on a person's life. I particularly remember a young female high schooler who I treated during residency. She was getting bullied and being called 'beaver teeth.' I saw her personality really blossom during treatment, like she was coming out of her shell! I was able to finish her treatment before her prom and she was over the moon happy!!! I can still see her bright smile in her prom pictures!!!"
What was your favorite subject in school?
"English and biology."
What do you enjoy doing outside of work?
"Orangetheory fitness, running, biking, road trips, reading, and watching rom-coms!"
If you were a super-hero, what powers would you have?
"It will be super cool to be fast like The Flash because I often feel like I need to be at 100 different places doing 100 different things at the same time!!!"
Who are your favorite characters in Friends and Big Bang Theory (her two favorite shows)?
"I love everyone in Friends, but Ross Geller is my favorite! Sheldon Cooper from Big Bang Theory!!"
If you were stuck on an island, what 3 things would you bring with you?
"Family, books, and protein bars!!!"
What's your favorite thing about working at Shirck Orthodontics?
"My absolute favorite thing is the fact that we always treat our patients as our family and would never recommend treatment that we wouldn't do if they were our kids/ mom/dad. I love how we are a big family and are always there for each other at work and outside of work too!"
Come Meet Dr. Soo!
As you can see, Dr. Soo is full of energy and enthusiasm, and she uses this (along with her years of experience) to make the orthodontic process fun and easy for each of her patients. If you'd like to meet her in person and learn more about what she could do for you or your child's smile, you can schedule A FREE consultation with her by clicking here.