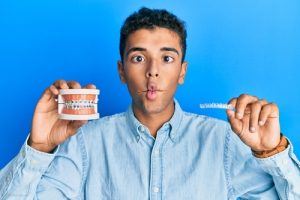 Traditionally, braces have been the gold standard for achieving the ideal smile you have always wanted. Chances are you or someone you know has had braces before with stellar results. Braces are one good way to correct your teeth. However, orthodontic technology has come a long way since traditional braces and Shirck Orthodontics in Pataskala, OH, New Albany, OH, and Westerville OH, is proud to offer several effective types of braces options for you to achieve your dream smile. 
Traditional Braces
Traditional braces have long been the go-to treatment for countless people seeking beautifully aligned teeth. These braces use metal brackets and wires to reposition teeth properly. Periodically, braces must be tightened in order to keep everything in line. As they are tightened, teeth are loosened and then gently moved into their correct position. Initial soreness is typical for patients but it fades over time. The longer you wear traditional braces, the easier it is to deal with any slight discomfort as your mouth adjusts.
Invisalign®
Whether you are an adult looking for a natural-looking orthodontic treatment or you have a teen seeking straighter teeth without using metal in their mouth, Invisalign® is a preferred discreet orthodontic care of choice. It delivers fantastic results using clear, custom-made aligners, minus the brackets and wires. Clear trays move your teeth into position gradually, until they've reached their preferred position. Every patient has different needs, but most often treatment takes between 9 and 15 months with around 18-30 trays being used. Unlike with traditional braces where food particles are constantly stuck in and around brackets, each Invisalign tray is removable. Pictures, special occasions, chowing down on your favorite grub – whatever the case, removable trays give you the freedom you desire.
Clear or Ceramic Braces
When envisioning your choice of braces, what is your preference? Are you inclined towards vibrant, metallic appearances, or do you lean towards a more natural-looking option, free from any visible metal elements? If the latter resonates with you, Shirck Orthodontics offers clear braces, an almost imperceptible solution for aligning your teeth without concealing your smile.
Similar to conventional braces, clear braces function to address bite issues and realign your teeth, ultimately restoring your confidence in your smile. Following their placement, you will be scheduled for several follow-up appointments with Dr. Jeff, Dr. Soo, or Dr. Betina to ensure the effectiveness of your orthodontic care. These appointments provide an excellent opportunity to observe your smile's progress and seek clarification on any treatment-related inquiries you may have.
Same-Day Braces
With Shirck Orthodontics' same-day braces, you can kickstart your journey toward the smile you've always desired without unnecessary delays. You can have your new braces in just a single day, and we assure you, this is not an exaggeration. We understand that your schedule is packed, so let us expedite your path to a new smile and get you back to your busy life promptly!
The process is simple – just walk in, settle into our orthodontic chair, and relax as our expert orthodontists and team swing into action. Initially, we'll assess your dental needs and perform a 3D scan of your teeth to create a digital model for reference. Once this is in place, either Dr. Jeff, Dr. Soo, or Dr. Betina will install your new braces, allowing you to head out the door in no time.
As with any type of braces, there may be an adjustment period initially. However, before you know it, you'll be confidently maintaining your oral hygiene routine. We'll also schedule regular follow-up appointments to ensure your same-day braces fit comfortably while effectively aligning your teeth.
Call Today
We invite you to speak with our team to set up an appointment at our Pataskala, OH, New Albany, OH, Westerville OH, Powell, OH, and Newark, OH offices. We welcome all patients located in and around the area including Blacklick, Johnstown, Heath, Hebron, Gahanna, Sunbury Galena, Thornville and beyond.