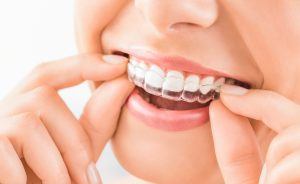 Orthodontics treatment isn't what it used to be. Thanks to advances in orthodontic technology and techniques, today we have more treatment choices than ever before! You can now seamlessly straighten your teeth without changing your eating habits or lifestyle. One of the many great modern orthodontic options offered by our skilled orthodontists,  Dr. Jeffrey Shirck, Dr. Soorya Srinivasan and Dr. Betina Grehs-Porto is treatment with Invisalign® clear braces. Invisalign clear braces can correct a wide range of orthodontic issues, including minor tooth movements and more complex cases. Whatever your orthodontic concern, the result is a new, more radiant and confident smile that you can proudly show the world. Make your Invisalign clear braces consultation appointment with Dr. Jeff, Dr. Soo or Dr. Betina today. Shirck Orthodontics has five convenient office locations in New Albany, Pataskala, Westerville, Neward and Powell, OH that proudly serve patients throughout Sunbury, Granville, Johnstown, Newark, Reynoldsburg, Blacklick, and the surrounding communities.
Before your Invisalign treatment plan can be formulated, One of our orthodontists and team will take detailed impressions of your teeth to make sure that they can be straightened using the Invisalign treatment system. Once the proper treatment is confirmed, a customized plan will be developed. Dr. Jeff, Dr. Soo or Dr. Betina will show you the projected series of movements your teeth will undergo so that you will be able to see exactly how your teeth are expected to look at the end of your Invisalign treatment before it even begins. Dr. Jeff, Dr. Soo or Dr. Betina will then send the treatment plan to the Invisalign labs, where your custom clear braces are specially fabricated. You will receive, wear and exchange a new set of braces every few weeks with quick progress checks with one of our orthodontists about every six weeks until your treatment is finally completed.
These clear braces are easily removable for brushing, flossing and eating normally.
View your results before you even begin your treatment.
No painful brackets or wires.
No painful adjustment appointments.
Complete your treatment discreetly.
The time it will actually take you to complete Invisalign clear braces treatment will vary depending on the complexity of your malocclusion issues. But of course, our skilled orthodontists will be able to determine if Invisalign is well suited to your individual situation and goals before you move forward with treatment. To get started, all you have to do is make an appointment for an Invisalign clear braces consultation with Dr. Jeff, Dr. Soo or Dr. Betina today. Shirck Orthodontics is trusted by families throughout Pataskala, New Albany, and Westerville, OH and the nearby communities of Sunbury, Alexandria, Granville, Johnstown, Newark, Reynoldsburg, and Blacklick.