In cosmetic dentistry, porcelain veneers are recognized as one of the aesthetic treatments that can give patients the smile they dream of. We are sure you have stumbled upon smile transformation pictures on social media! This procedure is gaining in popularity mainly because of the reduced number of sessions needed, the fact that it is a pain-free dental procedure but also and above all because it is minimally invasive and therefore requires only minimal preparation (removal of dental substance). Porcelain veneers can resolve a wide range of problems, ranging from slight positional alterations to change in the shape, size and color of the teeth. They can also allow closing the gaps between teeth and embellishment by regulating the shape of worn and chipped ones. It is important to mention here that misalignments and gaps can also be solved by orthodontic treatment, the latter being the least invasive treatment there is.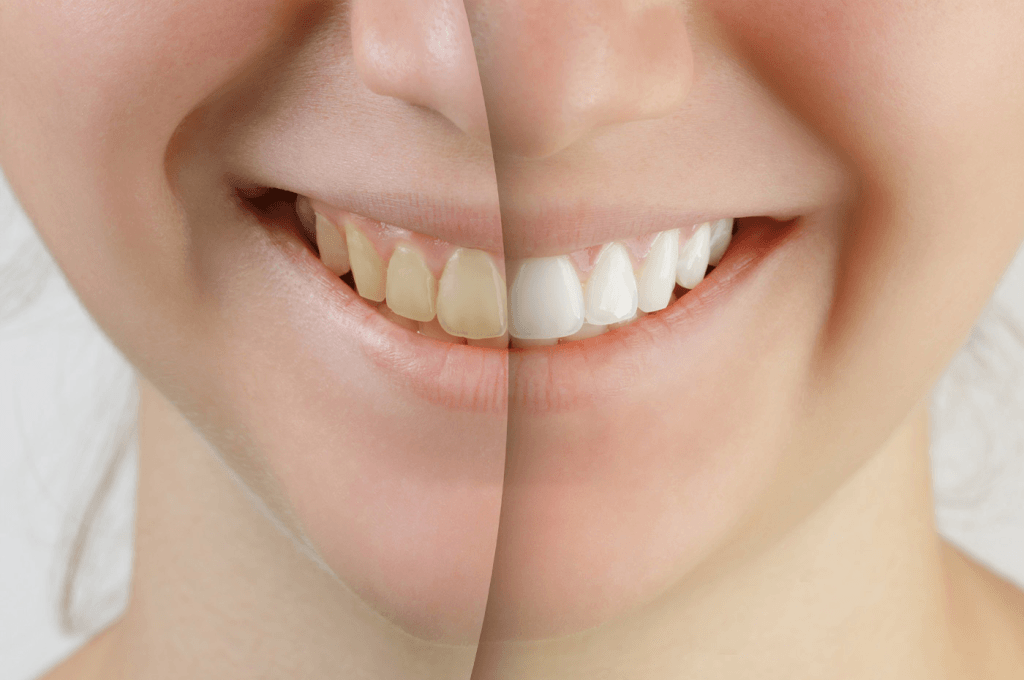 If you are wondering about the details of this procedure, this article is for you! The following Step By Step Guide will help you not only understand if veneers are a treatment option for you, but also tell you what to expect at every stage of the treatment.
Important to note! Veneers are not for everyone.
If your teeth are chipped, discolored, fractured, undersized or crooked, veneers might be the solution to your problem. BUT porcelain veneers are not made for everyone, and are even contraindicated for some, and below are the exclusion criteria:
Severely decayed teeth or large fillings
Patients with active gum diseases
Patients who are prone to clenching or grinding their teeth. This makes them at risk of cracking or chipping the veneers.
It is therefore very important to consult a specialist before making your decision, since veneers are an irreversible procedure and a relatively large investment, it is important to make the right choice.
      Veneers are "forever": Understanding the commitment
It is of major importance to keep in mind that getting veneers cannot be reversed. It is therefore a long-term commitment because, with proper care and reasonable precautions, porcelain veneers can last for as long as 15 years!
On the other hand, and contrary to what many people think, veneers should be taken care of in the same way teeth are. Therefore, we listed below some aftercare requirements you should respect:
Maintain good oral hygiene to prevent the occurrence of cavities beneath or around veneers.
Brush and floss twice a day, just as you would with your natural teeth.
Avoid bad habits like biting your fingernails or chewing ice which can chip or break the veneers.
In some cases, your dentist might advise you to wear a nightguard to protect the veneers at night.
Visit your dentist twice a year for a check-up, as you would normally do.
      Decision taken? What will the steps be?
a. Digital smile design is a state-of-the-art option that allows you to preview your suggested aesthetic plan before committing to treatment. Yes, you have heard it right! Your dentist can give you a digital preview of the result, and some even offer a mock-up which is a real-life simulation that is prepared using a mold fabricated on a printed model of the design. This can also be done in a more classic and conventional way through the creation of the desired smile by the addition of wax on a plaster model of the patient's teeth. A silicone key can then also be prepared, and a mock-up done, to make sure the patient is happy with the planned result before starting to prepare the teeth.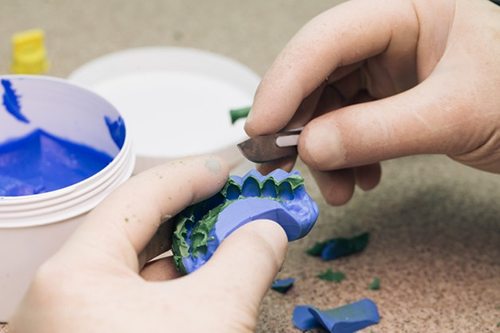 b. So, you already guessed it, the following step is the preparation of the teeth, which means the trimming of a layer of thickness almost equal to that of the veneer which will later be cemented to the tooth. The trimmed thickness can be as thin as 0.5 to 0.7 millimeters, hence the minimal invasiveness of veneers. When preparing your teeth, the dentist will remove any small cavities if present, and it is also advisable to replace any old resin composite restorations with new ones to ensure the most secure bond possible. When the teeth are misaligned or in the presence of diastemas or gaps between them, there may even be almost no need to trim certain areas of the tooth. On the other hand, sides that protrude too much may be subject to more preparation than others. Your dentist will try to limit the depth of the trimming to just the tooth's enamel layer to which the quality of bonding is greater than to dentine which is the deeper layer of the tooth.
Then, it is advisable in most cases to place temporary veneers which will avoid sensitivities and will allow you:
1. To adapt to the new shape of your teeth.
2. To test the shade of white and decide whether it suits you or if you would rather have the final veneers lighter or darker.
c. Impression
Your dentist will then take an impression of your prepared teeth and the soft tissues surrounding them. This impression will allow the creation of a copy of your mouth on which the veneers will be fabricated. Impressions can be taken by two different techniques:
1. A conventional impression with a silicone-based paste that is poured into a tray and squished over your teeth, left to set for a couple of minutes, and then removed and poured in plaster.
2. A digital impression with an intra-oral camera that takes an optical impression of your teeth when inserted in your mouth. A digital copy of your teeth is then created and can be printed to allow a manual fabrication of the veneers or kept in digital form and veneers are then digitally designed and milled out of a ceramic block, by a machine.
It is common for the dentist to place a retraction cord in the crevice between your tooth and its gum tissue just before taking the impression, to expose the limit of the preparation sometimes hidden under the gum, capturing the full extent of the tooth's preparation.
d. Try-in and pre-cementation evaluation:
Once your veneers are fabricated, the temporary ones can be removed and the permanent ones tried-in to check the fit, shape, and color. It is important to note that this is your last chance to make an objection about the shade of your veneers, because that color cannot be changed once the veneers are bonded to your teeth.
e. Once the dentist is satisfied with the fit and both of you are happy with the shape and color, the veneers can be cemented after a proper cleaning, chemical preparation of the teeth surfaces, and application of a bonding agent and a cement. The excess of cement, if any, is removed and your bite is checked.
f. Finally! Your dentist will ask you to come back for a follow-up appointment approximately a week after the cementation to evaluate how your gums have responded to the presence of your new veneers, and to make any needed or wanted adjustments in the shape.
In conclusion, it is interesting to know that if your dentist happens to have a completed digital workflow equipment at his clinic, all these steps can be done in one single session, but the resulting veneers might be less characterized than handcrafted veneers, which would require a minimum of two or three visits. Whether it's in one, two or three sessions, the result you get in such a reduced number of visits is totally worth it! However, orthodontic treatment remains the first choice in some cases, considering the fact that it is less invasive when it comes to removing dental substance and can give results that are as aesthetic as the ones given by veneers.
References:
https://www.sciencedirect.com/science/article/abs/pii/S0011853207000134
https://onlinelibrary.wiley.com/doi/abs/10.1111/j.1708-8240.2012.00517.x?casa_token=zviDfV5a9tgAAAAA:Hx3mrsiOFjB37e_0FK342NwD3xbwHLHffNR1oUD9ud8N3lgVcLkmV0q6DeSWpy8z3ctHZFCyOWl1Zfc
https://www.ncbi.nlm.nih.gov/pmc/articles/PMC3652364/
https://www.healthline.com/health/dental-veneers
https://www.ncbi.nlm.nih.gov/pmc/articles/PMC7215909/
Author:
Suzanna Maria Sayegh graduated in Oral Pathology, got a Master's in Research and a Doctorate in Dental Surgery at the Saint-Joseph University of Beirut. She is currently pursuing a Master's degree in Aesthetic and Prosthetic Dentistry. It is her top priority to provide high-quality, minimally invasive dental care to each patient, respecting their individual goals and needs.